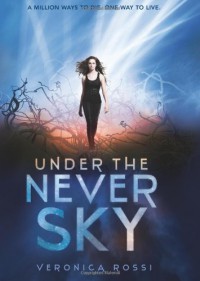 The story is fluid. Never got tired of reading. On the contrary, Rossi's style makes reading during long hours completely easy. Even when distractions surround you, you never get sidetracked from the story. The events are surprising. The reading is exiting. Under The Never Sky kept surprising me constantly. One of my favorite aspects of a book is its potential to keep me guessing. This title grabbed me and still have me on its electrifying cloud of Aether (Read me!!!) The last 14 pages are so incredible and fulminating at the same time. Incredible by its content but fulminating to me because right now I cannot help but kick myself for not getting the next book. Well, it happens...
The dystopian element in this has various conflicting elements.
-Population cannot live life freely. True freedom doesn't exist on the pods.
-An artificial world mainly computerized has been created to maintain contentment and safety.
-Genome have been manipulated to a point where population is easily affected by environment.
Now about the characters. At first, I didn't know how to picture Perry. He seemed a wild thing. Then the events guide you into his journey and you get to know his true self. He is more organic and follows his gut filling, something Aria is not used to. Aria is an interesting heroine. She becomes a complex character while traveling with Perry. I liked she changing into something entirely new. Plus, I like their names, really suit them.
Always thinking about covers, I liked the covers for this book. My edition's cover is gorgeous. It takes into consideration the setting. Aria is on the cover and it seems she is walking in an Aether storm. The colors look fantastic.
Overall, this book is a 5. I recommend this to YA readers, NA readers, dystopian lovers and well readers in general who just want to read something new strong in unique creative story building. Oh and if you are into Sci Fi grab this book.