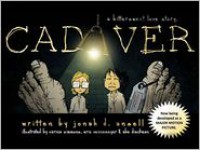 First thing that got my attention was the name of this: Cadaver. This is a romantic love story characterized my weirdness. A poem illustrates in a rhythmic way the hardship of a enamored old man. Sometimes rhyme is a priority and it sacrifices the poem at some extent. Nevertheless, the peculiarities of this comic makes it atractive.
All the time I kept cheering for the old man, but the insensible feeling of this cynic poem takes over and the old man is emotionally obliterated. And I had to kept reading!
The art is interesting. And the character design looks good. The girl in the square glasses is my favorite, because of her quirkyness. Colors and shadows are well utilized.
This comic book has a dark sense of humor. I have reread this various times and I find it amusing every time. I haven't watch the short film yet but I plan to.
Source: Provided by Netgalley for an honest review